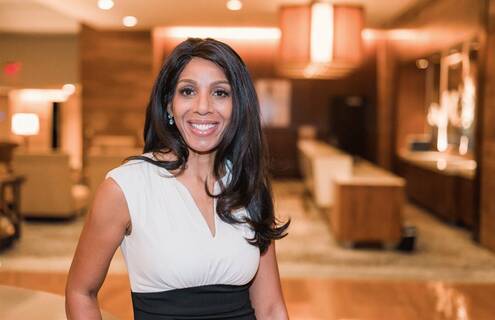 On Juneteenth, a federal holiday commemorating the emancipation of enslaved African Americans in Galveston, Texas, Alice Peck Day Memorial Hospital participated in a Dartmouth Health Inclusive Leadership Workshop. It was the second time the workshop took place at APD — in fact, the workshop made its debut to APD's Senior Leadership and the Board of Trustees in 2022. Ten successful workshops later, it returned to APD in 2023.
The workshop — led by Teresa Dean Malcolm, MD, MBA, FACOG, Vice President for Diversity, Equity, Inclusion, and Belonging (DEIB) at Dartmouth Health, and Alisha Robinson, DEIB Program Coordinator and Human Resources Business Partner at APD — educated managers about the importance of being an inclusive leader.
Inclusion is the top reason employees stay at a job — and exclusion is why they look for another job. In fact, in a survey conducted by Deloitte University and the Billie Jean King Initiative, 80% of respondents indicated inclusion matters more than pay. Today's workforce is looking for organizations to meaningfully address how inclusion feels.
"Inclusion is intentionally engaging all individuals based on a respect for differences and using this knowledge to welcome, value, and create opportunities for everyone," Malcolm said. "It is a set of behaviors—behaviors we can learn. You can make inclusion a daily practice. Inclusive leadership is no longer a 'nice to have.' It is a must have to retain talent."
Related article: APD's Preceptor Program
In addition, studies show the brain processes being excluded the same way it processes physical pain.
"The brain does not make a difference between exclusion and pain," Malcolm said. "It is the same physiological effect. No one is going to stay at a job if they feel bad every day."
Malcolm and Robinson guided the group through Dartmouth Health's DEIB core principles — such as psychological safety, equity, community engagement, and social justice — and how managers can align their behaviors and skills to support a DEIB strategy. Three key takeaways:
Connection: be curious about the perspective of others
Activation: add in the perspectives not being included
Courage: be the brave one, take risks, challenge the status quo
"Leaders need to form genuine connections and be seen as a real person," Robinson said. "You can be empathetic and vulnerable. It is okay to say you don't always have the answers."
Participants were encouraged to share the Inclusive Leadership Playbook with their individual teams and start some conversations about DEIB.
"Inclusive leaders foster a culture of belonging where everyone can thrive," Malcolm said.
Learn more about DEIB at Alice Peck Day Memorial Hospital, a member of Dartmouth Health, by emailing APD.belonging@apdmh.org or clicking here.