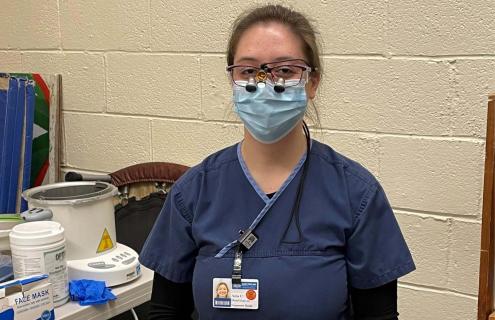 February is Children's Dental Health Month. So we asked Asha Clark, dental hygienist with Alice Peck Day's Upper Valley Smiles program, for advice to help kids of all ages keep teeth healthy. Here are 10 ideas to incorporate into your (or your family's) routine:
ONE: Be sure to eat teeth healthy snacks. This can include vegetables, fruits, nuts, and cheddar cheese. Fun fact: Cheddar cheese contains casein, which is a protein that fights cavity causing bacteria.
TWO: It is important to brush twice a day to remove the sugar bugs that cause cavities. The only way to remove them is to brush. Don't forget to brush for a full two minutes. Don't have a timer? You can count your ABC's (or sing the Happy Birthday song) two times to know you brushed long enough.
THREE: Everyone needs a sweet treat once in a while. Instead of eating sweets here and there, eat them all at once and brush right after if possible. If you cannot brush, at least swish and drink some water once you are done eating.
FOUR: How do you get in between those tight spaces where your toothbrush doesn't fit? Floss! Flossing helps remove food from between the teeth and keeps your gums healthy.
FIVE: Pick a toothpaste you enjoy using to have the added benefit of the natural mineral, fluoride. Fluoride helps strengthen the outside layers of your teeth. However, some people do not like fluoride and that's okay. Use other products that contain nano-hydroxyapatite, a natural compound found in your body, as it is just as effective as fluoride.
SIX: Some people do not like the taste or feel of toothpaste which can make it difficult to brush on a regular basis. If that is you, make sure to at least brush for two minutes with your toothbrush and water, then try and find a fluoride mouth rinse flavor you can swish with for 30 seconds.
SEVEN: A lot of people like to swish with water or rinse their toothbrush right after brushing. Did you know this actually makes toothpaste ineffective? Try to brush and only spit out the excess toothpaste into the sink without swishing with water.
EIGHT: Sometimes brushing the right way can take time to learn. It is important for parents and caregivers to know that having help or asking for help when brushing is okay and very normal for many kids.
NINE: Brushing twice a day, like we already know, is important for keeping your teeth healthy. What is just as important as brushing is making sure you are brushing the right way. Make sure you can feel the bristles of your toothbrush along your gums and edges of your teeth while making small circles.
TEN: Flossing your teeth can be tricky. Using fun floss sticks can make it easier. Just make sure to hug each side of your tooth to get both sides of your gums.
Upper Valley Smiles is a free dental health program for school kids created and hosted by Alice Peck Day Memorial Hospital. The program started in 2003, paused for two years during the pandemic, and restarted by visiting four schools in 2022. Upper Valley Smiles has plans to visit 10 schools — Lebanon, Enfield, Canaan, Hartford, and the Hartland elementary schools — in 2023.