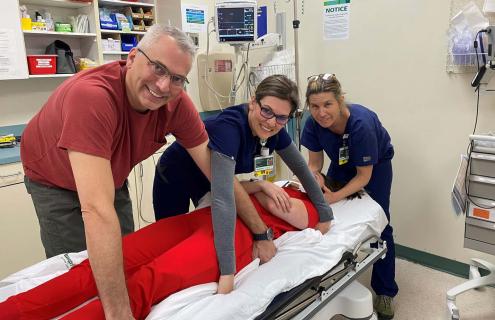 Annie MacKenzie was very sick for three weeks. She had seen a variety of providers who diagnosed her with various — and sometimes conflicting — things.
Until she went to Alice Peck Day Memorial Hospital's Emergency Department.
"I was told at my last visit if things started to get worse, I should go to the ER. From the moment I stepped through the door at APD, I was listened to and treated with respect," the New Hampshire resident said. "I was called in just as I sat down in the waiting room. Throughout my visit, I was checked on, informed of next steps, and treated with dignity. All of my questions were answered and the team left no stone unturned."
MacKenzie notes the efficiency and kindness of the receptionist, the thoroughness of Dr. Andrew Perron, and the nursing team of Sean Beinhaur, RN, and Amanda, a nursing student.
"Sean was an excellent teacher. When putting in the IV, he had Amanda come over to feel my vein. He was gentle and clear. He checked on me, listened to me, and searched for lab results," MacKenzie said. "Amanda did such a good job letting me know what was going on and looking to Sean to see if she'd forgotten anything. It made me feel confident that nothing was forgotten. She'll be a great nurse."
MacKenzie has visited many different of ERs with her family over the years, and said she will go to APD every time from here on out.
"APD's Emergency Department is the best. I kind of hate to even share my story because I don't want other people to find out," she said.
MacKenzie, who is still recovering from double pneumonia, notes her daughters were born at APD 19 and 17 years ago. She was treated with dignity and kindness then — and nothing has changed.
"Thank you so much for taking care of me. It is really hard to ask for help. I appreciate yours," she said.