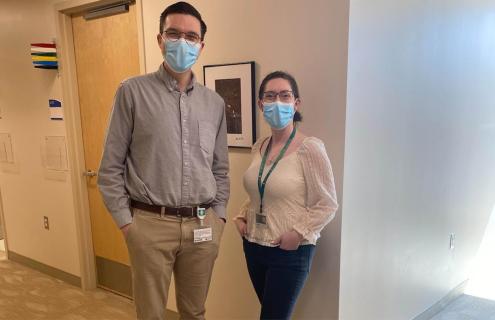 Having a primary care provider (PCP) is important to your overall health. By checking in with your PCP on a regular basis, you'll have someone familiar with your medical history, family health history, and personal habits. The relationship between patient and provider is based on familiarity, open communication, and trust.
Robin Naida knows the importance of this relationship. She's received primary care from a few different providers in the Upper Valley, but has found her forever care at Alice Peck Day Memorial Hospital.
"My experience at APD Primary Care has been great. I finally have a primary care provider that really listens and wants to take the time and steps to improve my overall health," the Enfield, New Hampshire resident says.
Naida has been keeping watch on her blood pressure, but previous primary care providers "pretty much brushed it off. It wasn't super high but high enough, so they dismissed it as white coat syndrome [registering a higher blood pressure while in the doctor's office]," Naida said. "I didn't feel like I was getting the care I needed."
According to the American Heart Association, high blood pressure is often called the silent killer. People with high blood pressure may not know that they have it and be at risk for heart attacks, strokes, vision loss, or kidney disease. Naida, aware of the danger of high blood pressure, recently switched to APD and Dr. Bradley Sprenger. 
"After five years of my blood pressure pretty much being brushed off, we are starting to deal with it," Naida said. "Carlie [clinical support representative] worked hard to get a medication that Dr. Sprenger prescribed approved through my insurance. Finally she was able get it approved. APD's primary care department is wonderful."