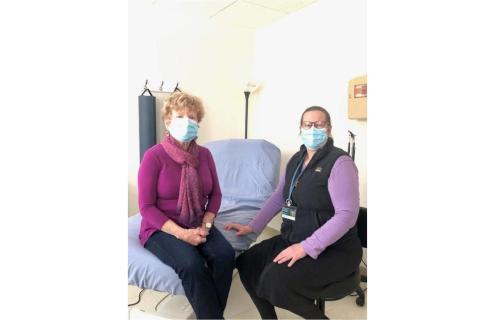 Debbie LaCroix was born at Alice Peck Day Memorial Hospital in 1951. Over the years, she's seen a variety of care providers at Lebanon, New Hampshire's community hospital.
"I have been a patient at APD for many years. I have had great experiences with several doctors and surgeons," the Enfield, New Hampshire resident said. "I like the atmosphere as it is more personal than the larger hospitals."
Recently, LaCroix started seeing Cindy Reuter, naturopathic doctor, acupuncturist, and medical director of Integrative Medicine, and Matt Harrington, massage therapist, at Integrative Medicine at APD.
"I heard about Integrative Medicine at APD from my husband's doctor. My husband was looking for massage for his neck and shoulders. He was happy with the results," she said. "After seeing my orthopaedic doctor for osteoporosis arthritis of my hands, I decided to try something different." 
LaCroix was already aware of the benefits of acupuncture, which she used to relieve pain after a surgery for a twisted colon in 1985. Now, at APD, she is using acupuncture to ease joint pain, swelling, and stiffness. Dr. Reuter also recommended hot stone massage for LaCroix's hands and feet.
"I don't like taking medicine, so I like these types of treatment as opposed to taking drugs," she said. "The treatments are helping. It is very relaxing, and I have had less pain in my hands and feet. I have had about three treatments with Dr. Reuter and Matt and continue to see them every three weeks." 
Although she only started seeing integrative medicine providers three months ago, "the results have been positive. I would recommend APD to everyone."