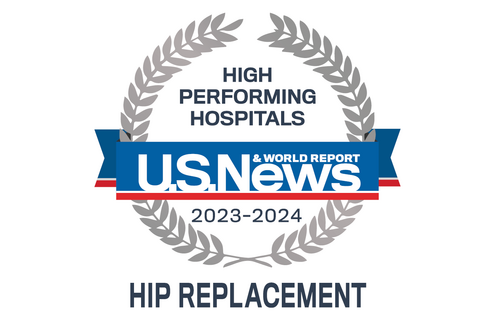 Liz York was 42 when she learned she needed a hip replacement.
"I was in debilitating pain," the Tunbridge, Vermont, resident said. "I had to go down stairs on my bottom and crab-walk sideways down hills on our farm. Any misstep on uneven ground could result in pain that would almost drop me to my knees."  
York was referred to APD Orthopaedics and Dr. Ivan Tomek by Dr. Peter Loescher, who was practicing at the Sharon Health Center in Vermont at the time.
"Dr. Loescher had been my orthopaedic doctor for earlier issues with runner's knee. Once Dr. Loescher saw my X-rays of bone-on-bone — with a misshapen 'ball' in the hip's ball-and-socket joint — he said I was an immediate candidate for hip replacement," York said. "I asked him who he would see if he needed a hip replacement and, without hesitation, he answered Dr. Tomek."
After asking around about APD and Dr. Tomek and only hearing good things — "I knew I was going to be in good hands" — York scheduled her surgery.
"My entire experience with Dr. Tomek was absolutely one of the best, most stand-out interactions I have ever had with a doctor," York said. "In our first meeting, he spent a good deal of time with me, listening to my answers to his questions and really getting to know me as a patient, especially the active person I had once been before osteoarthritis felled me."
"It is no exaggeration to say that it really felt like he saved my life. I was in a dark place because of the chronic, intense pain. From start to finish, he was a caring and concerned doctor. My husband, too, commented that he had never met a doctor like Dr. Tomek before — an absolute superstar as a surgeon, but also a warm and compassionate caregiver. In my experience, this is a rare combination."
York participated in APD's Joint School to help her prepare for surgery and post-operative recovery.
"I found Joint School to be very helpful. And I had great interactions with the nurses and nurse practitioners in Dr. Tomek's office. They were all excellent team members, and truly did seem to work with a united approach to making sure their patients thrived after surgery," York said.
A year and a half later — while skiing — York had the good fortune to run into Dr. Tomek on the slopes. "As a former ski instructor, I did not think I would be able to ski again when my hip started to give out. But less than two years after my surgery I got to tear it up on a few runs with Dr. Tomek, the surgeon who had given me my life back," York said. "It was magical. I cannot say enough about Dr. Tomek and his team."