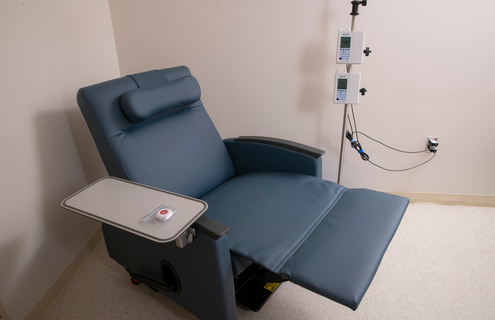 Ginny Harrington knows when it is time for an iron infusion. "When my saturations are low, I feel run down and it's harder to breathe," the Lebanon, New Hampshire, resident said.
She'll call her primary care doctor and schedule a time to have her labs drawn. Depending on the results, Harrington may be visiting the Infusion Clinic for a series of three infusions — once a week for three weeks — to get her iron levels back on track.
Which Infusion Clinic does Harrington prefer? Alice Peck Day Memorial Hospital's Infusion Clinic in the Multi-Specialty Clinic.
"I was not being well managed with my last doctor," Harrington said. "My daughter, Kim Grover, is a nurse at APD and recommended I switch."
It's only been a year, but Harrington is pleased with her care at APD.
"Dr. Sheila Bachelder is absolutely wonderful," she said. "Ellen Shaw, the nurse in the Infusion Clinic, is marvelous at what she does. Everyone is very conscientious, very patient oriented, and will include you in your care decisions. I was given a choice of two different infusions and I preferred the larger infusion over an IV push."
The location in her hometown is also handy for Harrington. "The Infusion Clinic is clean and comfortable. Someone monitors how I am feeling, asks if I need a drink or the heat in my chair on, and makes sure I am taken care of," she said.