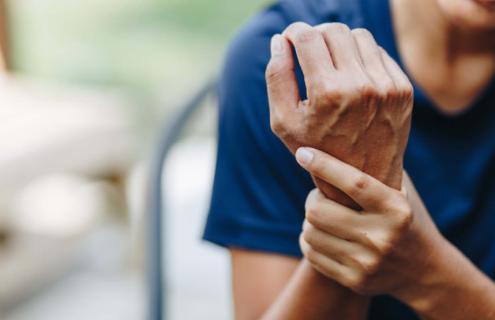 Do you have numbness or tingling in your hand?
Do your hands awaken you from sleep at night?
Are any of your first three fingers asleep when you first wake up?
If you answered yes to any of these three questions, you may have Carpal Tunnel Syndrome (CTS).
Carpal tunnel syndrome symptoms may start gradually and worsen without proper care. If you are hanging your arm over the edge of the bed to get pain relief in your hands or wearing a splint at night to help with tingling in your fingers, CTS is already interfering with your normal activities.
A visit to an orthopaedic care team may start with a history of symptoms, a physical exam, or an ultrasound.
"An ultrasound is a painless, simple, and accurate way to diagnose carpal tunnel syndrome," said Diane Riley, MD of APD Orthopaedics. She is a board-certified hand surgeon who specializes in the hand, wrist and elbow; a member of American Society for Surgery of the Hand; and a Fellow of the American Academy of Orthopaedic Surgeons.
Ultrasound is also a way to treat CTS. This new, nonsurgical technique offered by APD Orthopaedics reduces recovery time.
"Should you need surgery, ultrasound guided techniques allow for accurate releases with the smallest incisions and fastest recovery," Riley said. "Patients are seen, diagnosed in the clinic with ultrasound. If indicated, the patient is set up for surgical release. The procedure can be done under local anesthesia."
APD Orthopaedics patient Ben Canonica had traditional surgery in 2014, then the ultrasound procedure in 2022.
"The difference in the two procedures was noticeable immediately. There was far less pain, discomfort, and swelling," Canonica said. "I was able to start using my hand lightly within a few days and, after about a week and a half, I was able to work in my shop on some equipment maintenance. I was ecstatic! I felt like I was given back four weeks of my life."