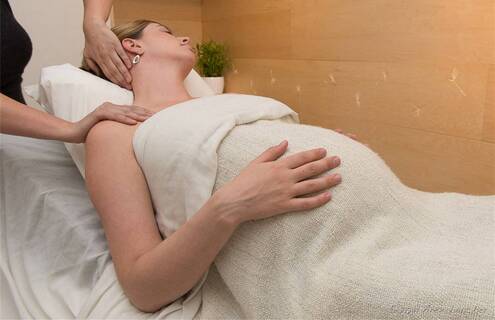 You are pregnant and you're tired, have heartburn, and your lower back aches. Someone recommends a prenatal massage, a type of massage designed to reduce pain, anxiety, and bring peace and comfort to expecting mothers.
"Massage eases tension and helps balance the changes happening in the body," said Nancy Rizner, a massage therapist at Integrative Medicine at APD. "Even if it is just a hand or foot massage, it will help with the anxiety new moms might feel."
"Prenatal massage combined with exercise and stretching can be incredibly helpful for back and pelvic pain in pregnancy," said Emily Donelan, MD, Obstetrics & Gynecology at Dartmouth Hitchcock Medical Center.
It sounds like a great idea, right? The first step, however, will be checking with your obstetrician or midwife. "It's never a bad idea to ask your care provider first," Rizner said. "You might think your pregnancy is routine but there might be something to discuss before starting massage therapy."
"I have never told a patient she can't get a prenatal massage but there may be unique circumstances," Donelan said.
Do your research. Look for a massage therapist with prenatal massage experience, like Rizner and Matthew Harrington, the licensed massage therapists at Integrative Medicine at APD.
"Ask your massage therapist lots of questions, such as qualifications, training, and experience. Have they provided enough prenatal massages to feel confident in their abilities? You want to fully trust your therapist," Rizner said.
In fact, the initial intake with your massage therapist should be quite lengthy — and it should be updated with each visit.
"The massage therapist should ask questions about your pregnancy: gestation stage, prenatal diagnoses, medications, prior bodily trauma, exercise habits, and past massage experience," Rizner said. "Provide as much information as you can. It's important to have an honest conversation with your massage therapist."
Your therapist should also know how to position and support a pregnant body. Heartburn sufferers, for example, should be on an incline. Pillows may be needed to support the body.
Massage can continue after the birth of your child. You may have different aches and pains as well as new stressors. A regular massage is an important addition to your healthcare toolkit as a new mother.
"Women who receive massage during pregnancy should consider transitioning to postpartum massage," Rizner said. "It will help with the stresses of new motherhood, giving moms a little less worry and a little more sleep at night."
The Obstetrics and Nurse Midwifery team at Dartmouth Hitchcock Medical Center (DHMC) has offices on the APD campus and they are located in the same building as Integrative Medicine at APD, adding to the convenience of scheduling a prenatal or postpartum massage.