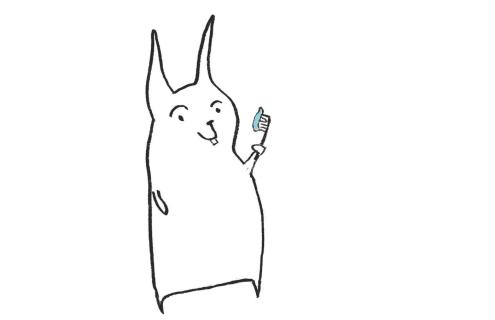 A makeshift dental office is set up in a spare room at Hanover Street School in Lebanon, New Hampshire. School Nurse Holly Maher and a first grader stop at the door and say hello to dental hygienist Asha Clark, who encourages the slightly nervous child to climb up onto the adjustable gray chair. What breaks the ice instantly? Clark gives the child sunglasses — super cool red and white sunglasses — to wear to protect his eyes from the bright light on her magnifying glasses.
It's just the start of the day for Upper Valley Smiles, a free dental health program for school kids created and hosted by Alice Peck Day Memorial Hospital. Over the course of two days, 47 children at Hanover Street School will receive a free dental checkup.
"The goal is to provide preventive and non-invasive dental care to elementary school students with no dental home or no regular dental care," said Liz Swanton, Community Health engagement officer and Upper Valley Smiles program coordinator. "Our dental hygienist provides oral health education, dental screenings, fluoride varnish, sealants, decay-stopping fluoride treatments, and interim therapeutic restorations — all at no cost to families."
Each visit varies — it all depends on a child's familiarity with dental care. Some have been to the dentist. Some have never seen a dentist, which isn't unusual in rural areas. Lower income families often have difficulty finding a practice that accepts Medicaid. If they do find a dentist, the wait for an appointment may be months due to a perfect storm of post-pandemic demand, a large number of retiring practitioners, and a downward trend of dental school enrollment.
But students enrolled in Lebanon, Enfield, Canaan, Hartford, and the Hartland elementary schools have support from Upper Valley Smiles. The program started in 2003, paused for two years during the pandemic, and restarted visiting four schools in 2022. Now, with Clark on staff part-time and the scheduling support of the school nurses, Upper Valley Smiles will visit 10 schools in 2023.
It's a good thing UV Smiles is back on the road: cavities are on the rise in Upper Valley schools. "We have seen kids with numerous cavities who complain of pain," Swanton said. "It is rewarding to provide some form of treatment to help stop the cavity and relieve the pain, then refer the child to a dental office for more comprehensive care."
Clark is great with the kids. "I'm going to look with my mirror, then use my tooth counter to wiggle each tooth to make sure it is strong," she explained. "Those are superman teeth. They are very strong."
She quickly removes plaque (which she calls "sugar bugs"), dry brushes teeth with a toothbrush that goes home with kids, flosses, paints decay-stopping varnish on any trouble teeth, and finishes with strawberry fluoride varnish. Swanton notes any trouble areas on a handout, so parents know what teeth might need additional care. It is tucked inside a goodie bag with a toothbrush, toothpaste, floss sticks, and a three-minute timer.
The day is a success. "This is way better than going to the dentist!" a child said to his teacher.
"We are so grateful to have APD help our students at HSS," Maher said. "I heard so many happy sounds from students as they left the room. One student told another, 'You are going to love that.'"