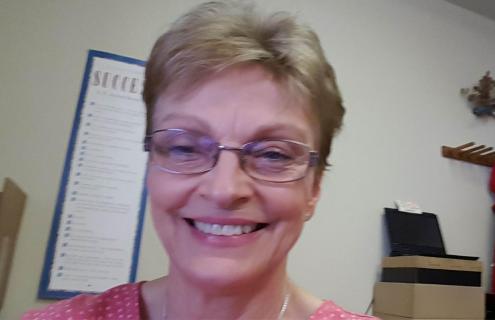 Massage therapist and former patient care unit technician Oriana McNally of White River Junction, Vermont had taken care of trauma patients, but "never dreamed I'd be one."
McNally, a primary care patient of Dr. Margot Stephens, came into work as usual at Sugarbush Farm in Woodstock in March 2021. "I didn't double lace the boots I was wearing, and I tripped. I flew across the room and hit my head on the counter. I broke my neck, my shoulder in two places, and had a traumatic head injury."
After a collar, sutures, a sling, and a four-day stay at DHMC, McNally went to APD for her recovery. APD, as a critical access hospital in a rural area, has approval to use its beds to provide acute or skilled nursing facility care.
"My introduction to patient care at APD was two LNAs greeting me at the door. They said, 'Welcome to APD — you're going to love the food'," McNally said. "And I did: I gained 10 pounds in the month I stayed at APD."
She emphasizes the severity of her condition, which was Type II odontoid fracture, a break that occurs in the second bone in the neck.
"The night nurse was a 40-year veteran. After I had been at APD for a week and a half, she said 'Oriana, do you realize how scary you were when you came in? The fact that you didn't have a brain bleed was incredible,'" McNally said. "Knowing I was in pain, the nurses were gracious and caring. They listened to me and answered all my questions."
McNally's progression of care at APD included inpatient physical therapy, outpatient physical therapy in July 2021, and massage and acupuncture in January 2022.
"Because of my head injury, I had headaches. I asked about massage and told it was right here at APD," said McNally, a Reiki master and 23-year massage therapist certified in oncology, deep tissue, and sports massage. "The minute Matt put his hands on me, I came home."
While in the waiting room, McNally would see Dr. Cindy Reuter, director of Integrative Medicine at APD, who always stopped to chat.
"Dr. Stephens told me a long time ago to do both Eastern and Western medicine so I decided to try acupuncture," she said. "It has helped with the headaches and is still helping with jaw movement, which had been limited from where I hit my head. I also had cupping to relieve muscle tension in my shoulders. It has been awesome."
McNally started back at Sugarbush Farm in June 2022 and found she was able to do most everything she could before. She began working full time in September 2022. She is still visiting Integrative Medicine at APD today.
"I am strong, active — but a little more cautious on my feet," McNally said. "I wish everyone could have an experience like I had at APD if they go through the trauma I've been through. The APD staff is incredible."